The Church of England is committed to the safeguarding, care and nurture of everyone within our church communities.
At St Barnabas, Cray we seek to provide effective safeguarding training for our staff and volunteers, support, advice and policies, so that children, young people and vulnerable adults are safe from abuse in the life of the Church and their well-being is enhanced. Protecting children, young people and vulnerable adults is the responsibility of us all, whether they are in the communities in which we live or part of our Christian family.
All of those who work with children, young people or vulnerable adults in our church undertake a thorough checking process, culminating in a Disclosure and Barring Service (DBS) check which is renewed every five years.
Our Safeguarding Officer is Sue Proctor and if you have any concerns regarding a child or adult of a safeguarding nature, please contact Sue on 07710263425 or our Vicar the Rev'd Neil Coleman on 01689831597.
Alternatively you can contact either Lead Diocesan Safeguarding Adviser, Greg Barry on 01634 560000 or 07585 952174 or by email: greg.barry@rochester.anglican.org or the Diocesan Safeguarding Adviser, Claire Langridge on 01634 560000 or by email: claire.langridge@rochester.anglican.org .
More information on safeguarding can be found on the Rochester Diocese website: https://rochester.anglican.org/safeguarding/ or the Church of England website https://www.churchofengland.org/more/safeguarding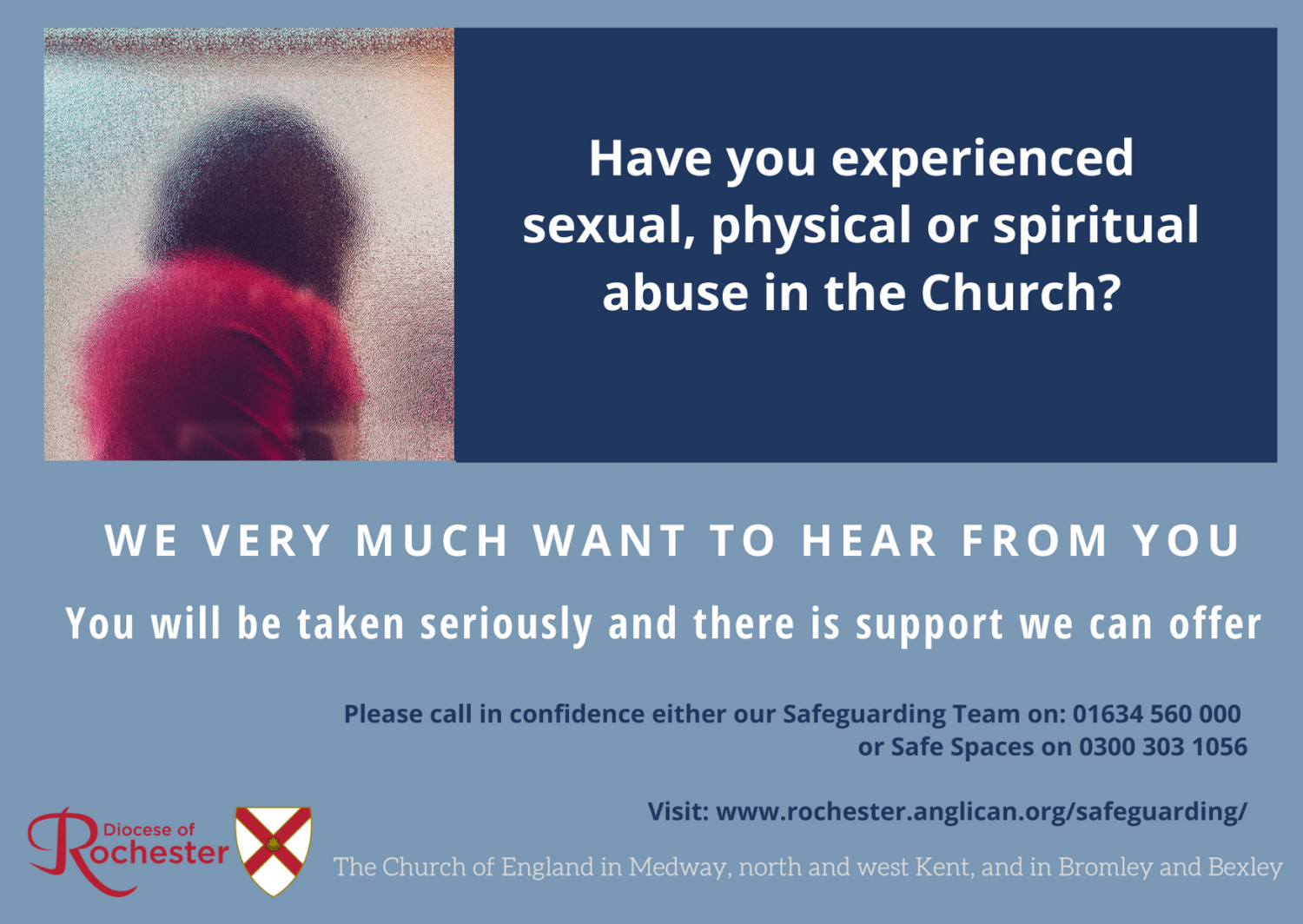 HEARING THE VOICES OF VICTIMS/SURVIVORS OF ABUSE
As part of the independent Past Cases review currently underway within the Diocese, we are very keen to engage with victims and survivors to ensure their voice is heard and offer support.
Read more here
Independent reviewers are currently carrying out a comprehensive safeguarding review of churches and key institutions within the Diocese of Rochester, called the Past Cases Review.
Its purpose is to help establish whether all known cases of church-related abuse have been considered and dealt with appropriately.
It's also an opportunity to learn about concerns that may not have previously been known about.
"We appreciate that this process will only be meaningful if those who have a concern about something they have experienced in a church, now or in the past, feel able, if they wish, to contribute and have their voice heard." Says the Ven Julie Conalty, Archdeacon of Tonbridge and Bishop's Lead for Safeguarding.
She continues: "We therefore want to encourage anyone who may have information about church related abuse to know that there are people you can talk to and you will be taken seriously."
Whether your experience is in the past, or you are concerned about a person now – perhaps a child of vulnerable adult – please contact the Diocese of Rochester's Safeguarding team on: 01634 560000.
Understanding that this may not feel safe for those with a lived experience of abuse, a dedicated telephone helpline operated independently by the NSPCC is available on: 0800 80 20 20
https://www.rochester.anglican.org/communications/news/past-cases-review--hearing-the-voice-of-victims-and-survivors.php